Grilled Greek New Potatoes
Suzie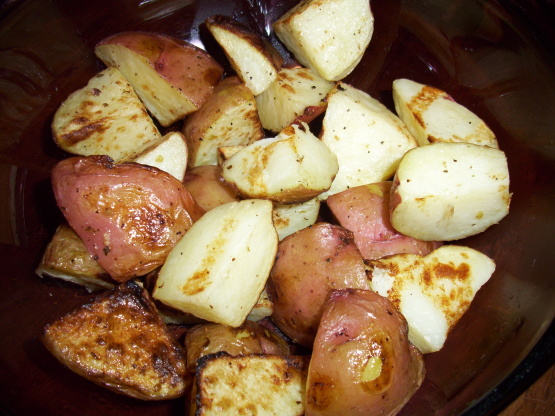 This is so easy and packed with flavour. It is a nice dish to serve with souvlaki or any pork or chicken dish.

Top Review by Lorac
Potatoes mixed with Greek salad dressing and cooked on the grill. I knew this was just the perfect addition to the rest of our meal. Only 2 ingredients and I had neither. But that didn't stop me! I used 2 large baking potatoes, 1/4 cup of Italian salad dressing, 2 oz of mild feta cheese and to save time (mine) - I skipped the precooking and wrapped them in foil because DH was cooking the rest of dinner on the grill. Kate, it was a wonderful flavor combination and I think your original version would be even better. I will make this again.
4

medium new potatoes, unpeeled
kraft Greek salad dressing, with feta and oregano
Cut potatoes into large chunks.
Boil for 10 minutes until slightly softened.
Toss with enough salad dressing to coat evenly while still warm.
Place in grill basket or for easy clean up use disposable pie plate with holes poked in it.
Grill over med heat for about 15 minutes until crispy on outside and tender inside.