GIAD5330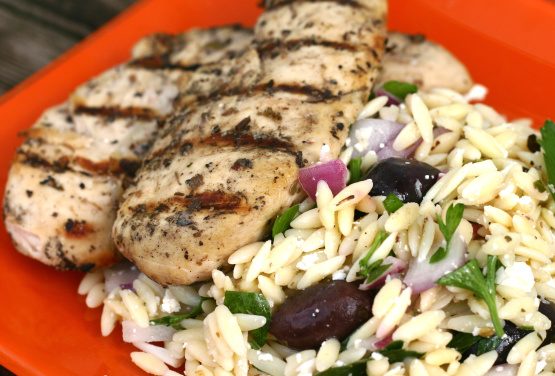 Ohhhh, so good, especially serves with Greek Lemon Potatoes from Zaar chefs. YUMMY! from Everyday FOODS magazine. Note: This is VERY LEMONY, adjust lemon ingredients to your preference.

Great change of pace recipe for grilled chicken. My daughter loves it! <br/><br/>Chef Colt, I pounded my chicken out evenly before marinading and grilled it in my barrel smoker over lowered direct heat. It only took around thirty minutes, if that.
Make marinade in small bowl, whisk together lemon zest and juice, oregano, oil, 2 teas. Kosher salt and 1 teas. fresh black pepper.
Divide marinade between 2 large re-sealable plastic bags.
Lightly pierce chicken with meat fork to deeply accept marinade.
Place 2 chicken halves in each bag; shake to coat. let marinate at room temp 30 minutes, turning bags occasionally.
Preheat grill to medium and lightly oil grates.
Remove chicken from bags and pat dry with paper towels.
Place chicken on grill and cook until lightly browned and cooked throughly, about 20 minutes.
Instant read thermometer should read 175*F when inserted in the thickest part of the chicken.
(If browning too quick, move to part of grill with less heat or turn down grill.).
Transfer chicken to a cutting board. Tent with foil; let rest 10 minutes.
Meanwhile, place lemon halves on grill; cook to slightly char, 8-10 minutes.
Garnish chicken with oregano sprigs and service with grilled lemons.