Marlene.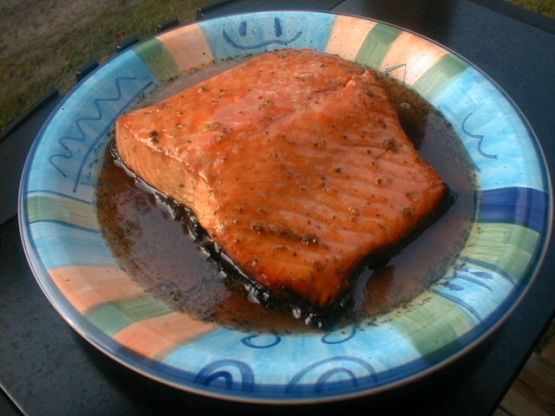 This is by far, my favorite company meal. We eat this salmon very often. It is so tender and delicious. Everyone I have served it to has always loved it - even children. Don't be afraid of the cayenne pepper - this is not a spicy dish. The original version of this recipe actually called for more cayenne (3/4 tsp.) which you are welcome to try if you like it a bit more spicy. The salmon called for in this recipe is a whole side of a fish - do not cut up until after it is cooked. The skin acts as a moisture protector on the grill and also helps hold the fish together- it can be removed after cooking, if you prefer. Adapted from a similar recipe in Quick Cooking magazine.

This recipe got raves from my family and my guests! They said they thought they were eating in a restaraunt!I didn't grill, I baked in the oven and I didn't have dill weed, so I ground up dill seed in the blender. I bet it would be even better were I to do it exactly as the recipe reads. Thanks for a meal I will make again. I served it with Friedel's Oven Parmesan Chips and a spinach salad with mandarin oranges. Yum!
In a small bowl, combine brown sugar, melted butter, lemon juice, dill, and cayenne pepper, mixing well.
Pour 1/2 cup of this sauce into a small saucepan- once the fish is in its final 5 minutes of cooking time, heat this until warm and pour over cooked fish.
Set aside the remaining unheated sauce to use for basting the fish as you grill.
Place the salmon, skin side down, on a large platter and season with lemon pepper seasoning and sea salt to taste.
Note: If your lemon-pepper seasoning already contains salt, then don't add the extra salt.
Lightly brush grill grates with some oil and heat grill to medium.
Carefully slide salmon off of the platter and onto the grill, skin side down,using a large metal spatula to help.
Cover grill and cook fish, undisturbed, for 5 minutes exactly.
Baste liberally with the reserved basting sauce, re-cover, and cook another 10-15 minutes- basting every 5 minutes.
Use up all of the basting sauce (Don't forgot to heat up the 1/2 cup reserved sauce from before).
Fish is ready when it begins to flake and is starting to appear as if milk is seeping out.
Carefullly remove to a fresh,clean platter and pour the 1/2 cup sauce you had simmering on the stove over the top of the fish.