Grilled Garlic Steak With Tomato and Bread Topping
Boomette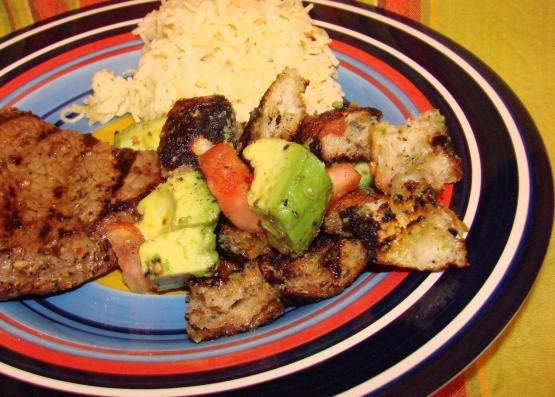 From Everyday with Rachel Ray, it's a bit unusual, but it's great, kind of like a knife and fork version of a steak sandwich This uses a skirt steak, but any steak would be good here - I used filet mignons seasoned with my favorite BBQ seasoning, and I used sourdough bread. I cut the recipe in half for two filets, had three smallish vine-ripe tomatoes, and three slices of sourdough bread, it worked out well. Serve with a green salad for a great summer dinner.
I have to say that it's 5 stars for the bread-tomato salad. But for the steak, the oil with garlic... was not enough for us (not enough flavor). So I tried it again tonigh. I used the marinade of always for only the steak. But did the oil for the bread and tomato. Perfect like that. I added a diced avocado. I used ciabata rolls. Thanks Recipe Reader. Made for PRMR
Preheat grill to medium high.
In a bowl, combine garlic, olive oil, salt, black pepper, and cayenne pepper.
Brush the tomatoes with the seasoned oil, and grill until lightly charred, turning once - about 12 minutes, and set them aside.
Brush the steak and the rolls with the seasoned oil, and grill the rolls for a couple of minutes, turning occasionally.
Grill the steak, turning once, to desired temperature.
Let the meat rest, then slice it thinly, and divide among 4 plates.
Coarsely chop the rolls and tomatoes, and toss in a bowl with the rosemary, any residual meat juices, and additional salt and pepper if desired.
Top each plate of steak with the bread salad.