Grilled Garlic Pork Tenderloin
Nimz1466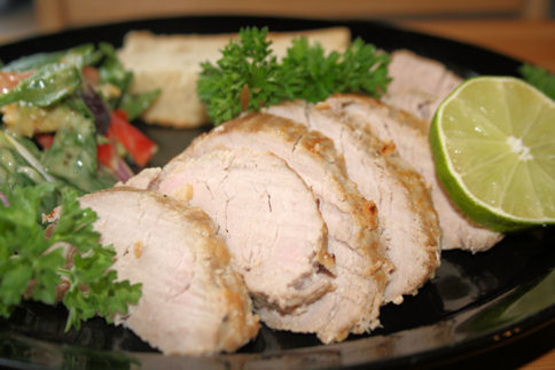 A great marinade for pork. The marinating could be done for a shorter time, but I love the flavor it gets after sitting that long.

People, this is exceptional!! The flavor is so magnificent you MUST try this. I did not change anything. I had five Iowa Pork Chops that I marinated overnight. I can only imagine what the flavor would be like after 2 days in the marinade!!! Rodger did not say how much cayenne pepper to use so I added ½ teaspoon. Rodger thank you for sharing this, it has become a family favorite!!! I keep my gingerroot in the freezer I think it grates easier.
Put all ingredients except pork in a blender or food processeor with salt and pepper to taste.
Blend.
Put the pork in a sealable plastic bag and pour the marinade over it.
Put in the refrigerator for 1-2 days, turning occassionally.
Let pork stand at room temperature about 30 minutes before cooking.
Cook over prepared grill turning every 5 minutes until it registers 160 on a meat thermometer (about 15-20 minutes).
Let stand 5 minutes before slicing.