Grilled Garlic Cheese Grits
Hey Jude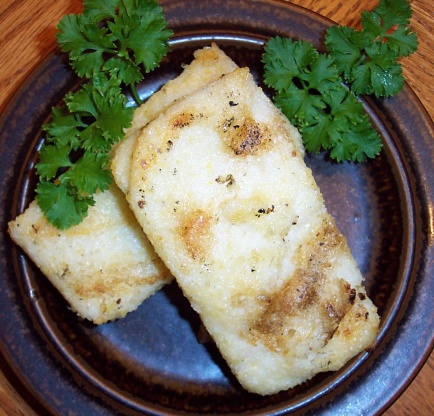 We love grits, this is another good way to serve them. A great alternative to a baked potato when served with grilled steak or chicken. I belive this recipe could be made with instant grits.The 2 1/2 hours for refrigeration is not include in time. The recipe comes from Tast of Home's Light and Tasty.

This is a great, new way to serve grits. I made ahead the night before because I know how long it can take to get grits to "set" - also omitted the cheese to make this vegan. Since I halved the recipe I didn't have exactly the right sized pan to let set in. So I think the size I used made them a little too thick and they were still a bit mushy in the middle when I went to grill them. But no fear, I just put the slightly wet slices on aluminum foil on the grill to warm. They actually ended up reconstituted, which was amazing since it's hard to get grits to do that! Regardless, they tasted great and were a good match to the grilled shrimp I served.
I a sauce pan, bring water to a boil; slowly add grits and salt, stirring constantly; Reduce heat:simmer, uncovered, for 40-45 minutes or untill thickened, stirrin occasionally.
Add cheese and garlic; stir until cheese is melted, Spray 9-inch baking dish with nonstick cooking spray; Cover and refrigerate for 2 to 2 1/2 hours or until frim.
Before starting the grill, coat the grill rack with nonstick cooking spray; Cut the grits into 3-inch squares; Brush both sides with olive oil.
Grill, covered, over medium heat for 4 to 6 minutes on each side or until lightly browned.