Grilled Garlic Bread With Thyme Infused Butter
teresas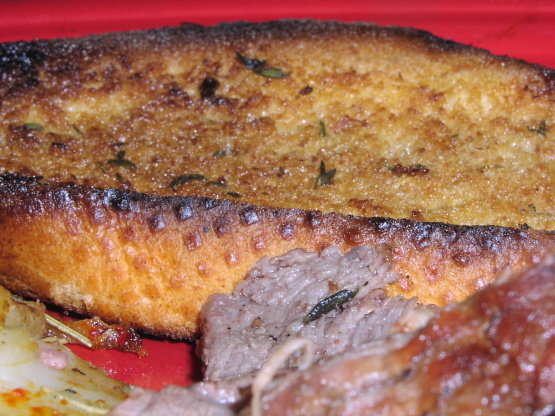 Very tasty and super easy to make.

Top Review by ImPat
We had this last night with a pot roast dinner. I used a seeded wholemeal pan made vienna loaf cut into thick slices and brushed one side and while that was on the grill brushed the other and then followed through. The only suggestion I would make would be to bruise a clove of garlic and infuse that in the butter with a sprig of time to bring the garlic flavour out a bit more, which is what I will be doing next time. Thank you *Alia* for something different to regular garlic bread or cheesy breads. Made for Please Review My Recipe - tag game. UPDATE - infused with the garlic and had it on thick slices of toasted wholemeal bread and it was delicious. Still had lots of butter left and thinking of using it to make a more traditional garlic bread that you slice and wrap in alfoil and cook in the oven - sure will be equally delicious.
Place butter into a small pot and add thyme sprig.
Melt and let infuse for 10 minutes.
Preheat a grill to medium high.
Slice the rolls in half brush with a little of the thyme infused butter.
Place cut side down onto the grill and grill until bread is toasted and grill marks appear.
Rub each piece of toasted bread with cut side of garlic clove and then brush with a little more thyme butter.
Sprinkle with sea salt and cracked pepper and serve immediately.