ImPat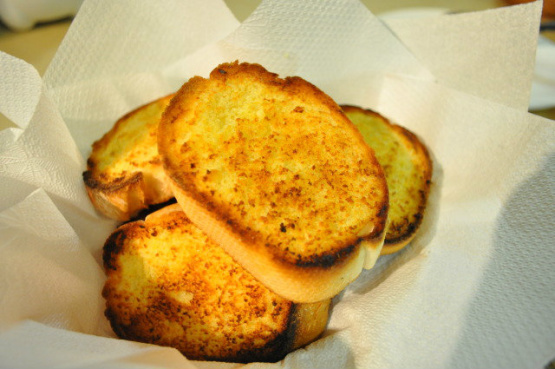 This is so simple, but so delicious with grilled meats. This recipe came from Taste Of Home magazine.

Top Review by ImPat
As I always have garlic butter in the freezer I used that and cooked it under the grill/broiler - toasted one side first and then buttered the other and grilled/broiled that till nice and brown but I think the results would be better if done on the b-b-q as you would get that flavour that you can only get from the b-b-q so will be doing again on the b-b-q once the warmer weather comes. Thank you Barenaked Chef, made for 123 Hits tag game.
Cut the bread into 8 slices.
In a small bowl, combine the butter and the garlic powder.
Spread on one side of each slice of bread.
Place bread, buttered side up, on a grill over medium heat for 2 minutes or until browned.
Turn and grill 2 minutes longer or until browned.
Yield: 8 servings.