Grilled Fruit and Veggie Salad Fit for a King and Queen!
Rita1652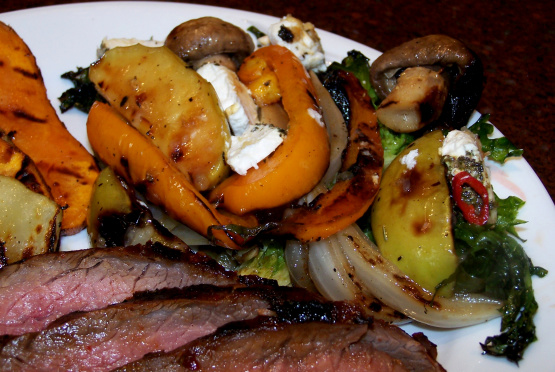 Make your next salad smoky, full of flavor and tender with a slight south western kick. Make it a complete meal by topping with a protein like cheese, cooked eggs, grilled chicken, fish, or beef. Low in fat so healthy you can have a lot!
Greens

2

head lettuce greens (using whole heads of baby greens of choice, like romaine, red leaf, endive the choices are your favo)
olive oil, to cover
salt, to taste
fresh cracked pepper, to taste

1.23

ml dried herbs (I like an Italian mix)

1.23

ml garlic powder

2.46

ml onion flakes

Veggies

1

lemon, sliced in 1/2

14.79

ml honey

1

fresh hot chili peppers, Serrano or 1 jalapeno, sliced

1

garlic clove, minced
salt, to taste
fresh cracked pepper, to taste

1

large onion, sliced lengthwise with end still intact

1

bell pepper, sliced into 8 slices

1

granny smith apple, sliced into 8 slices

28.34

g feta cheese with herbs, crumbled (optional)
Greens:.
In a zip lock bag add lettuce stem down.
Mix the remaining Greens ingredients together, then pour over greens.
Seal zip lock bag removing as much air as possible.
Flip a couple times to distribute marinade.
Veggies:.
Squeeze lemon and place the lemon into zip lock bag.
Add honey, chipotle pepper, garlic, salt and pepper: Mix bad to combine ingredients.
Add the remaining ingredients; seal bag removing as much air as possible. Toss to coat all.
Let both bags sit at room temperature for 1 hour or more in the refrigerator.
Preheat grill and a oiled veggie grill pan to medium high-high heat.
Place onion slices on first to cook for 2 minutes flip.
Add the rest of the veggie bag to the grill pan saving to marinade.
Grill till chard and tender to your liking.
Remove for grill.
Remove greens from bag combining marinades together, taste to adjust seasonings, set aside.
Grill the greens of choice just to slightly wilt and chard, giving a nice smokiness to it.
Plate greens topping with veggies.
Drizzling the marinade if desired.
Top with feta.