Grilled Flank Steak With Garlic-Parsley Sauce
MsPia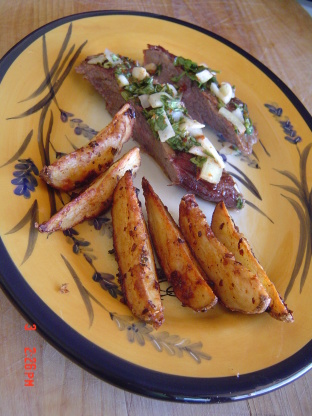 Don't waste hours marinating flank steak before cooking it. Coating the grilled steak with a potent sauce adds just as much flavor. The recipe is from Cook's Country Magazine.

I loved this! I used this sauce on some strip loin steaks. I chose it over other "chimichura" sauces because it had less fat and less garlic. Unfortunately I only had yellow onions, I think it would be better with red, but it was still great! I blitzed it in the processor. I have some left over and might use it on some vegies or fresh tomatoes. I will definitely make this again to use with steak, thank you for posting!
Combine parsley, onion, garlic, vinegar, oil, pepper flakes, and salt and pepper to taste in a small bowl.
Season steak with kosher salt to taste.
Grilled over very hot fire until browned on both sides and slightly less done than you want, about 10 minutes.
Place steak in a baking dish and coat with parsley sauce.
Cover dish with foil and let rest for 5 minutes.
Slice steak thinly against the grain and serve with sauce remaining in baking dish.