Grilled Fish With Lemon Parsley Butter
Derf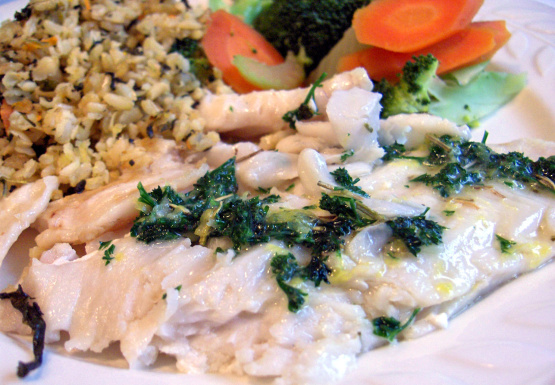 Another great way to serve fish. I have used all different types of white fish so use your favorite.

Top Review by SJBG
Delightfully subtle flavor, allowing the natural taste of the fish to come through as well. As such, make sure not to pair this with too heavy a side dish, as I'd think this could be easily overpowered, and it's just too delicious to permit that to happen. We just made white rice flavored with some chicken bouillon and extra parsley.
Preheat grill to medium-high heat.
Coat cold grill rack with cooking spray; place over heat.
Combine butter, parsley, lemon zest, salt and rosemary in small bowl; set aside.
Coat fish with cooking spray; place on grid.
Grill, uncovered, 3 minutes.
Turn; grill 2 to 3 minutes longer or until opaque in center.
To serve, squeeze juice from 1 lemon half evenly over each fillet.
Top with equal amounts of parsley mixture.