Grilled Fish With Garlic, White Wine and Butter Sauce
Prep 10 mins
Cook 50 mins

Recipe Adapted from Chef Bobby Flay - Food Network. An excellent recipe to prepare fish or shrimps over cooked pasta with a delicious taste.
Directions
In a small pot, whisk together white wine, shallots and garlic.
Cook over high heat until reduced to half. Remove from heat, cool slightly. When mixture is warm, cut in butter and whisk together. Add parsley and season with salt and pepper.
Cover with plastic wrap and refrigerate for at least 30 minutes. Bring to room temperature before grill them. Heat grill over high heat.
Brush fillets with olive oil and season with salt and pepper. Grill fish for 4 minutes per side, or until golden brown and fish flakes easily with a fork.
Place fish in plates and top with the butter sauce. Serve immediately over warm pasta or with shrimp instead of fish, if you prefer.
Thanks for your reviews and suggestions to correct this recipe.
Reviews
Most Helpful
I've a few issues with this recipe. 1. Is it half a lemon or a whole lemon? Not clear. Either which way, lemon juice makes this recipe far too sour - it simply doesn't need it with white wine. Furthermore, lemon zest when cooked goes very bitter, so I'm not a fan of that either. 2. Is it one or two garlic cloves? 3. This is my preference, but two shallots is better than one - the sweetness balances that acidity from the wine. 4. Too much butter. This needs 25g tops or it is too greasy. All in all, a poor reclipe. Better to stick with a classic meuniere; wine, shallots, garlic and parsley. The lemon ruins it!

Loved it! Will definitely prepare this dish more often now. However the lemon sauce is quite overpowering
Update: I made it again following the recipe exactly and again the lemon flavor was pretty potent. We preferred the added sugar from last time when I used light butter. It definitely was better with regular butter, but still awful sour. Previous Review: Everyone LOVED it! I used cod this time and plan on trying it with shrimp and scallops next. Something I learned the hard way: do not use light butter! I've never had a problem cooking with light butter before but it did not work in this recipe. The resulting sauce was overwhelmingly lemony (as in sucking a lemon straight lemony!). I "saved" it by adding more wine, garlic and real butter along with some salt, pepper and even some sugar. I served the fish and sauce over linguine with a side of yellow squash and zucchini sautéed in olive oil and Mrs. Dash's lemon pepper seasoning. Excellent supper! Thanks!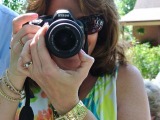 Summer Central