Grilled Firecracker Chicken
twissis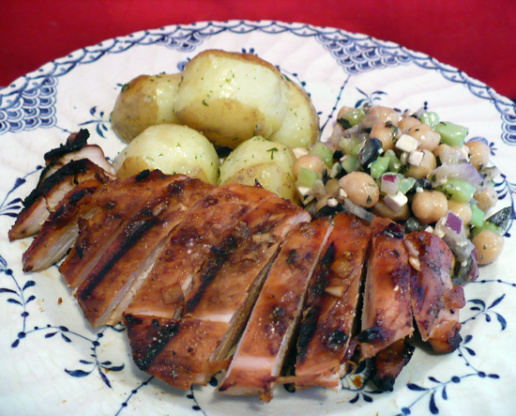 Bottled sweet chili sauce can be found in the international section of your grocery store. Orange marmalade can replace the apricot in this juicy chicken recipe.

We were so intent on something yummy from the grill that DH grilled this for us as snow fell from the sky & it rewarded his effort. I used skinless & boneless chicken breasts we found on sale at the lowest price in 5 yrs, but otherwise made as written. The breasts were lrg, so I cut them in medallions to serve but the meat was fork-tender. The basting sauce had an excellent balance of sweet + savory & I may dbl it next time so I can make a light sauce for the chicken. We loved this tasty chicken, Lainey. Thx for sharing the recipe w/us. :-)
Prepare grill for indirect-heat cooking.
Combine salt, garlic powder and pepper; sprinkle over chicken.
Combine the last five ingredients, including the preserves, sweet chili sauce, scallion, ginger and soy sauce; set aside.
Grill chicken, skin-side down, over direct heat until browned, 5 minutes.
Turn; place over indirect heat.
Cover; grill 45 minutes, and baste occasionally with the apricot-chili sauce mixture.