Grilled Fig and Orange Blossom Yogurt Sundaes
Elmotoo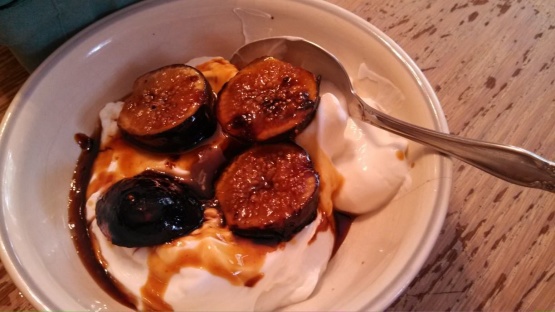 This Middle Eastern inspired sundae is a cool way to end a meal with thick yogurt standing in for ice cream on a hot summer night. Try topping your yogurt with grilled fresh figs. Just brush them with a mixture of honey and fragrant orange blossom water and grill until caramelized. Arrange over scoops of cold yogurt and sprinkle with toasted pistachios and a drizzle of additional honey mix for a new take on a classic treat.
1⁄3 cup honey

1

tablespoon water

2

teaspoons orange blossom water

9

medium fresh figs, stems trimmed and halved lengthwise

1

quart yogurt (thick, plain or vanilla, sweetened or not as you like)
1⁄3 cup pistachios, roasted, salted and coarsely chopped
Heat a grill pan or outdoor grill to high (about 450°F to 550°F). Meanwhile, whisk the honey, water, and orange blossom water in a small bowl until combined; set aside.
When the grill is ready, place the figs on a baking sheet and brush both sides with the honey mixture; reserve the remaining mixture for drizzling over the sundaes. Place the figs on the grill cut-side down (Keep the baking sheet handy). Cover the grill and cook until grill marks appear on the bottom, about 2 minutes.
Using a flat metal spatula, flip the figs, cover the grill, and cook until grill marks appear on the second side and the figs begin to soften, about 1 to 2 minutes more. Remove the figs to the reserved baking sheet.
To serve, scoop the desired amount of yogurt into 6 bowls. Divide the figs among the bowls, sprinkle with the pistachios, and drizzle with the remaining honey mixture.
Serve immediately.