Prep 25 mins
Cook 10 mins

I love falafel but rarely eat it given that most kinds are fried. Just found this on the Internet and it looks like a wonderful option.
Directions
Heat the oil in a medium, non-stick skillet over medium-high heat. Sauté onion and garlic until the onion is soft and the garlic golden, about 4 minutes. Let cool.
Place the sautéed onion in a blender or food processor. Add the chickpeas. Pulse to coarsely chop the beans. Add cilantro, parsley, rice, curry and cayenne. Pulse until all ingredients are finely chopped and evenly distributed. Turn the mixture into a bowl.
Add the juice and 1/4 cup of the bread crumbs. Have the remaining bread crumbs ready in a shallow dish or bowl. With your hands, knead the chickpea mixture until it is like a moist dough. Scooping up 1/4 cup at a time, form the chickpea mixture into patties. Coat lightly with remaining breadcrumbs. Repeat, making eight 3-inch patties.
Heat the grill, griddle, or cast iron skillet. Brush lightly with oil. Place the patties down an inch apart. Cook 4 minutes, until brown in spots. Turn and cook another 4 minutes, to brown lightly on second side. Or, heat the broiler and place the falafel in a shallow foil-lined pan. Broil 3 minutes, turn and cook on the other side for 3 minutes. Serve immediately on whole-wheat pita with lettuce and sliced tomato.
Reviews
Most Helpful
I cook for a vegetarian cafe, and so make falafel frequently. This is very tasty, very tender, and the fact that it isn't fried makes me very happy. Usually I bake my falafels, and I could bake these too, but the grilling is a nice method, gives it a bit of a different flavor boost. I left out the cilantro, some of my customers don't care for it, and increased the parsley. I served these with a tzatziki sauce, and some fresh lemon juice, along with the required lettuce and tomato. The patties freeze and keep well. thanks!

yum! i wasn't exact with the measurements -- i just kinda eyeballed it and added a little extra garlic and cilantro (i'm a garlic fiend!) and it was fantastic.
Falafel can be a bit hit and miss with me. Sometimes I can't remember if I like it, then I try a recipe and don't, sometimes I try one and do - this recipe was delicious! Lovely, rich flavours and I loved the crunchy breadcrumbs on the outside. Easy to make and a nice alternative to a meat packed dinner!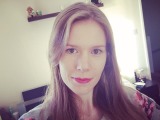 Summer Central