Grilled Eggplant With Ricotta and Tomato
Rita1652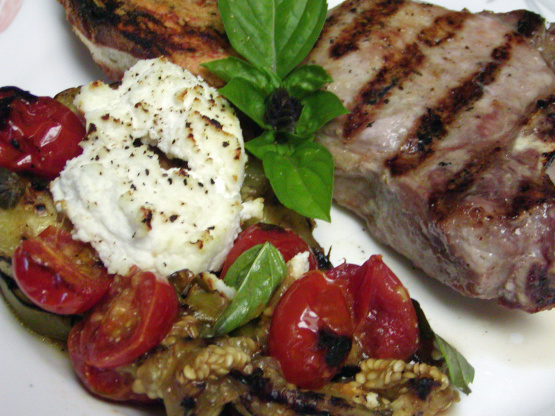 A tasty side-dish for those who love classic Mediterranean flavours. Serve with grilled or BBQed chicken or kebabs. Or serve it as a stand-alone brunch or light lunch dish with pita bread or warm crusty rolls. Best made with fresh ricotta rather than the tubbed supermarket ricottas. Adapted from a recipe in Lulu Grimes'"Food, Cook Eat: buy it fresh, cook it simply, eat it now"

oh yes capers and eggplant, my two favorites, how could this be anything but wonderful! I too increased the garlic and also added in some Parmesan cheese to the ricotta, I did increase the ricotta and capers also, thanks for sharing bluemoon, we enjoyed this dish!
Heat the grill to high.
Brush the eggplant slices with some of the oil.
Grill the eggplant slices on both sides until brown, then place them in the bottom of a lightly greased, small shallow baking pan that will fit under the grill, and set aside.
Over a medium heat, add the rest of the oil to a small sauté pan (preferably non-stick), add the cherry tomatoes and garlic and sauté for a couple of minutes, stirring occasionally, until the tomatoes begin to soften.
While still stirring, add the capers and leave the pan over the heat for an additional minute.
Remove the pan from the heat.
Cover the eggplant slices with the tomato, garlic and capers, season to taste and spoon the ricotta over the tomatoes. (The amount of ricotta included in the ingredients may not completely cover the tomatoes; if you want to cover the tomatoes, use more ricotta.).
Place the baking pan under the grill until the ricotta starts to bubble.
Scatter the basil leaves over the top and serve.