Rita1652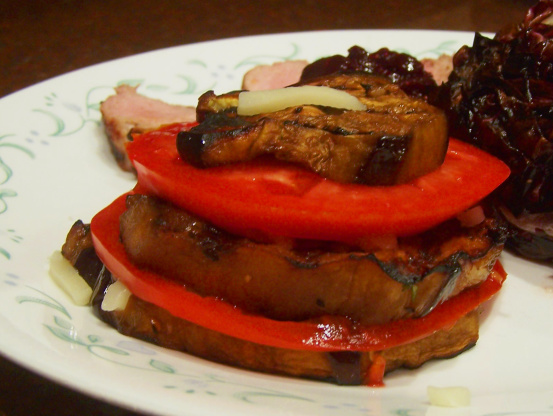 This is delicious as is or for a nice presentation stack with fresh or grill tomatoes, and mozzarella cheese. Drizzle with the leftover marinade.

Loved this! Great pictures, too. I used TJ Bal. vinegar - will look for fig. Put all in a zip lock bag with fresh herbs. After turning over on grill I added cheese. WOW - the best way to serve eggplant! I served in a stack with tomato slices and sprinkled fresh herbs over. Will serve this to many at the 2010 Balloon Fiesta! Thank you! A real keeper!
Mix all marinade ingredients together in a large container with a lid.
Add eggplant and toss to coat.
Marinade for 1-8 hours.
Heat grill.
When grill is hot place eggplant on the hot preheated grill. Grill about 10 minutes, turning once.
Enjoy as is or.
Top with cheese and tomato slices.
You can drizzle with balsamic that has been reduce by half.
garnish with herbs.