Grilled Duck With Rhubarb Cherry Glaze
Rita1652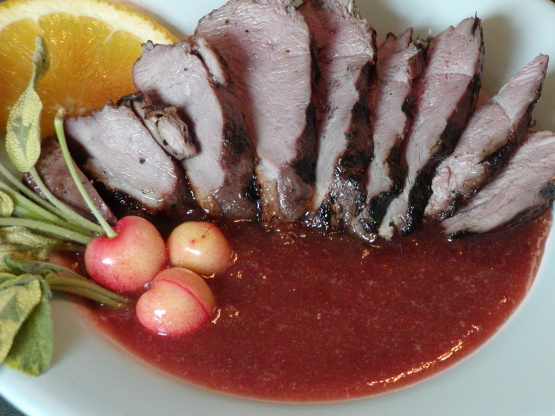 The grilled duck is glazed with a delicious rhubarb cherry glaze that has hints of orange. The flavors borrowed into the rice in which it is served on. This seems very complex but you can simplify by using butter or oil in place of the rendered duck fat, replace the stock with water, and by buying the duck in cut pieces.

Sauce is GREAT, definately try again, TRUE! Made duck outside on our BBQ! Quicker, easier, which suited me, Perhaps didn't come out exactly like published recipe, Sauce would be great in chicken or pork, Like to eat things without a fork! Duck was a little fatty, perhaps that didn't help TRUE! Had more bones/fat than meat too! Thanks for allowing me to try this too, Look forward to trying one ot the many recipes from you!
If making stock place the giblets, bones and skin of the duck not used.
By placing in a stock pan with 6 cups water to cover adding an onion and season with salt, pepper and sage.
Simmer for an hour.
Set aside.
In a small sauce pan place cherry preserves, honey, rhubarb, ginger, sage, cognac heat simmering till rhubarb is tender about 15 minutes.
Blend with a hand blender till smooth.
Set aside.
For Rice-- Soak dried cherries in warmed orange juice.
In a large saucepan add 1-2 tablespoons rendered duck fat or butter saute onions for 5 minutes adding sage, zest, and chopped cherries and rice stir then add 2 1/2 cups duck stock or water.
Cover and simmer for 50 minutes.
Place duck pieces skin side up on hot grill then lowering heat to low.
Brushing glaze on duck while cooking turning half way through and glazing other side.
Cooking about 25-30 minutes.
Fluff rice plate it and place sliced duck breast, legs, and or wings on rice serving with leftover glaze.