amyw343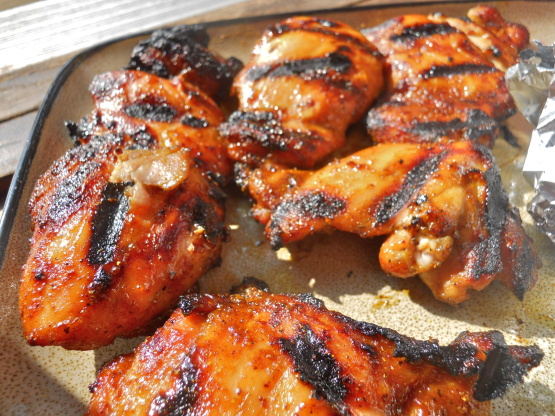 This is quick and easy to make on a hot weeknight. Just fire up the BBQ, baste the chicken with the marinade and VOILA! You can also double the sauce and bake the chicken in the oven.

Cathy: Thanks for a great recipe! The chicken I prepared this evening was "just right." The curry flavor was evident, but not overpowering. I followed your recipe except that I marinated the chicken for an hour and I grilled it indoors on my Scanpan ridged grill...a wonderful addition to any kitchen! Tonight I used cinnamon...next time I'll try allspice. A winning recipe. Thank you!
Fire up BBQ to medium heat.
In a large bowl, stir oil with mustard, honey, curry, salt, garlic powder, pepper and cinnamon or allspice.
Baste chicken with a basting brush or add chicken turning evenly to coat.
Place chicken on grill.
BBQ turning and brushing often with remaining marinade.
Baste only for the first 5 minutes, allowing all baste to cook.
Remember, the marinade has been in contact with raw chicken, so it must be fully cooked.
Grill 5 more minutes to ensure doneness.
Sprinkle with coriander.
Great with Fast Tropical Mango Salsa.
As an alternative, you can double the sauce, place in foil covered baking dish and bake the chicken breasts in the oven at 375 for about 20 minutes. Goes great with Pad Thai!