Grilled Cream Cheese Sandwich
gailanng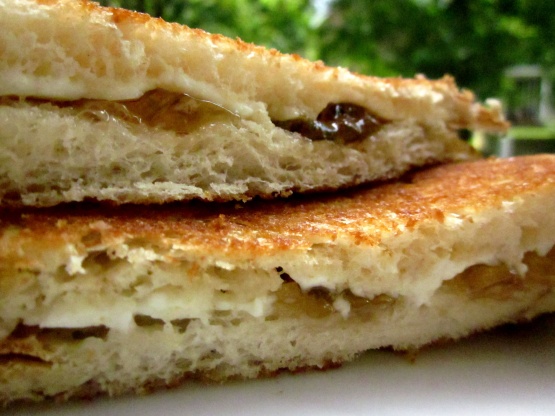 I love all grilled sandwiches! This one is very easy to make and it's great on it's own or with additions. I use low fat cream cheese and it's always good.

This was a nice surprise. I was looking for something different for lunch, and to use some cream cheese. Wouldn't ya know, this fit the bill. I used pear slices, with a sprinkle of cinnamon sugar, and it was scrumptious. I had enough leftover date spread to make one sandwich too, and though I had made date/cr cheese sandwiches before, grilling them took them to an incredible new level. The pear was wonderful; just slightly warmed and softened by the heat, but not mushy, and the cream cheese was so good softened by the heat. I made it on my homemade bread (#277723), and I thought the complex flavors enhanced this recipe, and the substance should make an otherwise light sandwich last until dinner. Thanks for a great idea!
Melt 1 teaspoon butter in a small skillet.
Spread cream cheese on one slice of bread.
If adding extras-do so now.
Cover with second slice of bread and butter the top slice with the other teaspoon of butter.
Place in hot buttered skillet on unbuttered side.
Grill until lightly browned.
Flip it and lightly brown the other side.
Serve!