Grilled Corn With Citrus Butter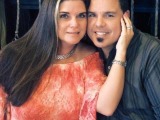 This recipe comes from Bon Appetit, June 2006.
1 1⁄2 teaspoons packed finely grated orange peel
1 teaspoon packed finely grated lemon peel
1 teaspoon packed finely grated lime peel
1 teaspoon kosher salt
1⁄2 cup unsalted butter, room temperature
vegetable oil cooking spray
6 ears corn, husked
Directions
Combine first 4 ingredients in small bowl; mash to combine.
Mix in butter.
Preheat barbecue (medium heat).
Spray corn with nonstick spray.
Grill until browned in spots, turning often, about 15 minutes.
Serve with citrus butter.
Most Helpful
The citrus butter is the thing. And it is a wonderful thing. I did cook the corn in the microwave, but the next time I plan to grill it. This is a very nice change from regular sweet corn with butter. Thanks for posting it.