Grilled Corn on the Cob with Zesty Butter
teresas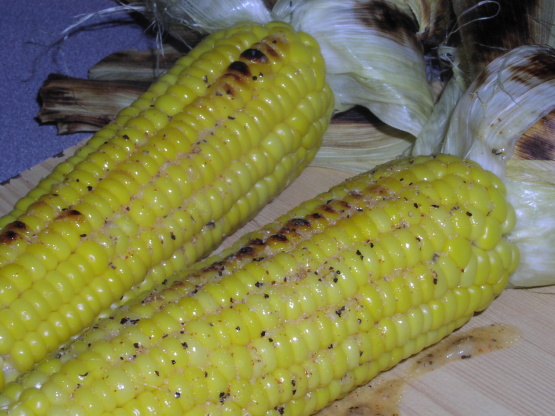 This is a wonderful way of preserving the fresh taste of summer corn and one less pot to worry about cleaning.

Love the texture and flavor from grilling the corn this way. The butter was good, too. Next time I'll tweak the butter by adding some chili powder.
Carefully pull back each piece of corn husk one by one without detaching it from base.
Remove corn silk and replace husks one piece at a time over corn kernels.
Tie string around center of each cob and trim string close to knot.
Soak corn in sink of cold water for 30 minutes.
Remove from water and pat dry.
Grill over medium heat turning occasionally until tender- about 15 minutes.
Combine spread ingredients and serve with corn.