Bergy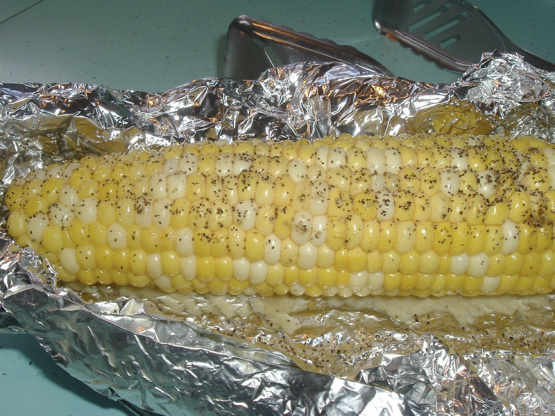 this is the best way we like to have corn on the cob. the corn finishes cooking in the butter and seasoning, instead of adding them afterwards. it's also really easy to prepare as a side dish at a bbq, since you can do all the prep. ahead of time, and then just place them on the grill. we use greek seasoning, but i have used a variety of spices, be adventurous!

Top Review by TMoney
I had fresh corn that needed to be used. I soaked the corn in water and a cup of suger for an hour thinking I was going to do the regular boil thing. I didn't have greek but used creole seasoning after slathering it in soft butter and diced chives (that I keep in the freezer for whenever I need them). Thank you so much for the inspiration to do something other than boil!
4

ears corn on the cob (the frozen kind, if you want to use fresh, pre-boil until done)
butter, set out until softened

seasoning of your choice

all purpose Greek seasoning
light grill, you want a medium fire.
thaw corn.
cut approx 6 inches sheets of aluminum foil.
coat ears of corn with softened butter.
shake seasoning on each ear of corn.
wrap each ear of corn in a foil sheet.
place on grill, and grill for approximately 30-45 minutes over indirect heat.