Grilled Clams With Garlicky White Wine Sauce
Kim127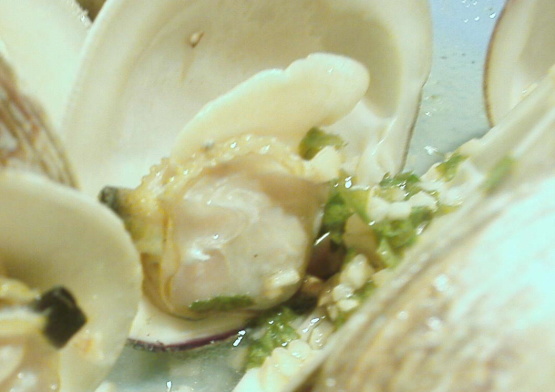 Yum! Make sure to serve with more wine and a great crusty bread to get all the delicious broth! This is also great with a squirt of fresh lemon or some chopped green onions as a garnish. Some even love to add a small dab of horseradish or even some good smoky bbq sauce. Experiment and try what you like. To really get the clams to cook quickly sometimes I will even place an old pot with boiling water or broth in it on the grill to add some steam. Adding some aromatics to the pot also seems to add to the flavor or the clams really well. This serves 6 as an appy or 2 as a meal if you include some bread and a green salad. Of course I could probably finish the whole lot of them off all by myself! lol Hope you enjoy this simple yet delicious dish!

Great dish! I broiled my clams as I don't currently have an access to a grill, but they were fantastic anyway. Next time I might add some chicken stock in order to dilute the acidity from the wine a bit. Thank you!
Heat olive oil over medium heat. Melt butter then add garlic and saute for about 1 minute or until garlic is fragrant.
Pour in the wine and bring to a boil, cooking until the wine has reduced to about half its original volume. Taste and season with salt and pepper as desired. I use sea salt and fresh ground peppercorns. Set sauce aside and keep warm.
Get grill as hot as you can for best results. Place the clams on grill. (A disposible foil pan works great for this!) Grill until the clams have opened and discard any clams that do not.
Remove from grill and pour clams and juice into a shallow bowl. Pour sauce sauce over the top. Top with parsley and any optional garnishes as desired.
Serve immediately with some good crusty bread to soak up all the yummy juices.
Have another glass of wine and ENJOY!