COOKGIRl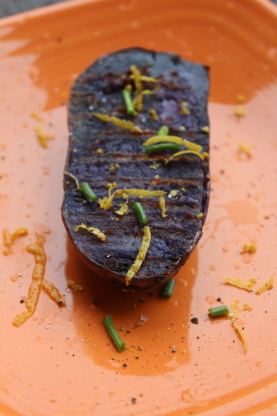 From Bon Appetit March 2011: "A brief sear on the grill and chive-lemon butter dress up these spuds." Perfect for use with raclette. Simple and quick - no muss, no fuss, and tasty too!

For this easy recipe, I used both red-skinned potatoes and purple potatoes. They were roasted at 350 degrees for about 45 minutes. Then the potatoes were sliced in half, slathered with melted butter and grilled on a stove top grill pan for 10 minutes on the cut side. Transfered the potatoes to a platter and added another slather of butter and seasoned with salt, cracked black pepper, fresh chives and lemon zest. Reviewed for Best of 2011.
Cook potatoes in large pot of boiling salted water until tender, 25 to 30 minutes. Drain. Cut potatoes in half; place cut side up on rimmed baking sheet. Press each gently with fork to flatten slightly.
Stir butter, chives, and lemon peel in medium saucepan over medium heat until butter melts; season with salt and pepper. Brush some chive butter over potatoes.
Coat grill rack with nonstick spray. Prepare barbecue (medium-high heat).
Grill potatoes, cut side down, until cut side is crisp and brown, 10 to 12 minutes.
Rewarm remaining chive butter. Transfer potatoes, cut side up, to platter. Drizzle with warm chive butter.