Grilled Chipotle Salmon With Pineapple Cilantro Rice
PaulaG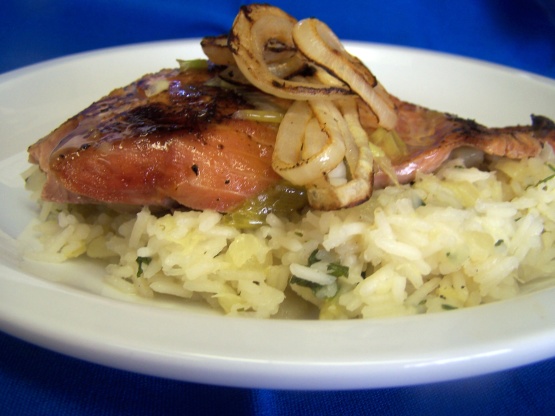 The zip of the chipotle is cooled by the ginger sauce and pineapple rice. Make this as hot as you would like by leaving the seeds in the peppers or removing them for less heat.

Top Review by Fran6
Really excellent rice! I used some leftover grilled pineapple that had been brushed with tequila. I also used red onion because I had half of one to use up, and sauteed about the same amount of diced red bell pepper with the onion for the same reason. Will definitely make again. The salmon sounds good too but my partner does not eat seafood unfortunately.
4

(680.38 g) salmon fillets

1

medium sweet onion, sliced 1/4 inch thick

Marinade

1-2

canned chipotle chile in adobo, finely minced

44.37

ml adobo sauce, from the can of chipotle peppers in adobo seasoning

44.37

ml brown sugar

29.58

ml olive oil

29.58

ml white wine vinegar

1

garlic clove, pressed

4.92

ml kosher salt

Sauce

236.59

ml dry white wine or 236.59 ml unsweetened apple juice

29.58

ml sugar

29.58

ml fresh ginger, grated

29.58

ml key lime juice

29.58

ml butter, softened

4.92

ml cornstarch

1

scallion, thinly sliced

Rice

14.79

ml olive oil

59.14

ml sweet onion, diced

236.59

ml basmati rice

226.79

g can crushed pineapple, undrained

177.44

ml pineapple juice

118.29

ml water

4.92

ml kosher salt

59.14

ml cilantro, minced
Mix all ingredients for the marinade, reserving 3 tablespoons. Pour the marinade over the salmon, place in refrigerator and allow to marinade for 1 hour.
Approximately 10 to 15 minutes before placing the salmon on the grill, began preparing the rice by heating the 1 tablespoon olive oil in a medium saucepan. Stir in chopped onion and cook for 3 minutes; add rice and sauté an additional minute.
Add pineapple, pineapple juice, water, and salt; bring to a boil, cover and reduce heat to low. Simmer for 20 minutes or until liquid is absorbed and rice is tender. Fluff with fork and stir in chopped cilantro.
Place salmon over medium heat on gas grill or over charcoal, cook until fish flakes easily, turning once; approximately 10 to 12 minutes total.
While salmon is cooking, prepare the sauce by bringing to a boil the white wine, sugar, ginger and lime juice. Reduce to 3/4 cup; this should take about 7 to 10 minutes.
Brush the sliced onions with the reserved marinade and grill until done, turning as needed.
Mix cornstarch with a small amount of water until smooth, whisk into wine along with butter. Cook 1 minute or until thick, add scallion and keep warm.
To serve, divide rice onto 4 serving plates, top with cooked fish, spoon sauce over and top with grilled onions.