Grilled Chinese Pork Chops
lazyme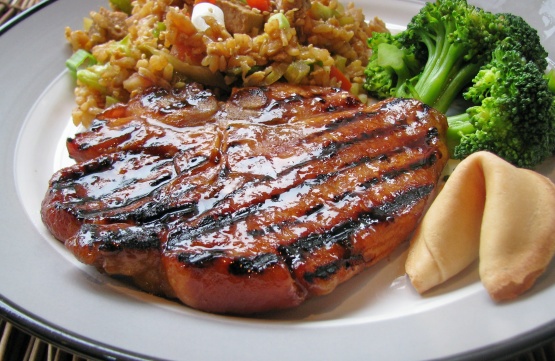 From Chinese Food Site by Lila Voo. The timing does not include marinating overnight. Serve with fried rice and stir fried green beans. I have reduced the hoisin sauce from 1 cup to 1/2 cup. Also have reduced the sherry wine from 2 tablespoons to 1 1/2 tablespoons. Reductions posted after the first six reviews.

Top Review by lazyme
Yum! I love hoisin sauce so knew that I would love these. Very simple to make and they cooked quickly. My grandson said he didn't want any - until he tried a taste of mine. Then he wanted his own, lol. Thanks WiGal for a great dinner. Made by a fellow Unruly Under the Influence for ZWT6.
16

ounces pork chops, 4 of them about 1 inch thick

Marinade

1⁄2 cup hoisin sauce

2

tablespoons soy sauce
1 1⁄2 tablespoons sherry wine

1

tablespoon chili-garlic sauce

1

teaspoon chili-garlic sauce, optional for more heat

1

teaspoon sesame oil

1

teaspoon honey
Prepare the pork chops by removing all of the fat.
Then poke both sides of each chop with a fork.
Place the chops in a container with a tight fitting lid to be marinated.
In a separate bowl, mix together thoroughly all of the ingredients for the marinade.
Pour the marinade over the pork chops and stir them to coat.
Place them in the refrigerator and marinate overnight.
When you are ready to cook the chops, pre heat the grill to medium high.
Once the grill is hot remove the chops from the marinade and immediately place them on the grill.
Reserve the marinade in the container and let the pork chops sit for 2 minutes.
After 2 minutes, rotate the chops, don't flip them yet.
Just turn them to make nice grill marks on the one side.
Then using the reserved marinade, lightly baste each pork chop.
Let them cook another 2 minutes and then flip them.
Lightly baste again with the remaining marinade.
After another 2 minutes, rotate them to create grill marks on the other side and lightly baste them one more time.
After 2 more minutes check to make sure that the internal temperature of each pork chop has reached 140 degrees.
Once they are done, remove them from the heat, cover them with foil and let them sit for about 10 minutes and then serve.