ngdarlen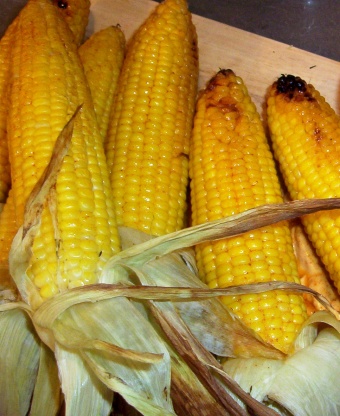 Plucked this recipe outta my Great Grilling Cookbook!!

Top Review by Z-chef
I've made this several times. It really does bring an almost perfect food (grilled corn on the cob) to a higher level of perfect! It has just enough zip. We don't grill our corn in the husk, we just mist it with a little evoo and put it right on the grill. DElicious!!!!!!
Prepare chili-lime spread by mixing all the ingredients together.
Heat coals or gas grill.
Remove large outer husks from each ear of corn;turn back inner husks and remove silk.
Spread each ear of corn with about 2 teaspoons of chili-lime spread;reserve remaining spread.
Pull husks up over ears and secure ends with fine wire(I don't secure mine)
Grill corn uncovered 3 inches from MEDIUM heat 20-30 minutes,turning frequently,until tender.
Serve corn with remaining spread.
***TIP***I grill my corn on my gas grill,on the top rack, covered,and it came out the same as directed.