ImPat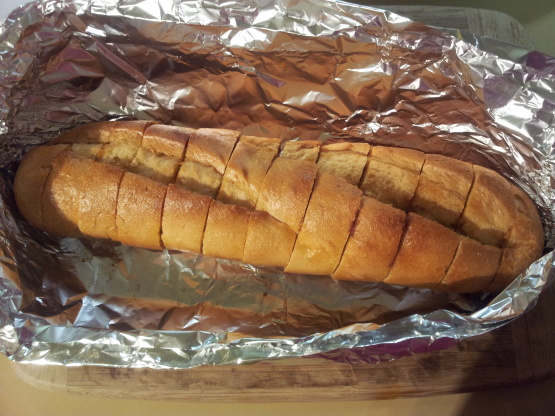 Crispy on the outside; tender and golden on he inside. Oregano and chili accent cheddar chees in this delicious bread that is cooked on the grill.

Top Review by ImPat
I made as per recipe but will cut back on the chilli powder as we found it to be a little overpowering but then again I should have known better as it is a home made one from my neighbour who grows a large variety of chillies and makes her own mixes and most are blow your socks off, and as I have some butter left over I will tone it down with some more butter and cheese and oregano. Also as the weather is really chilly at the moment I cooked mine in a 175C oven for 30 minutes, thank you Crafty Lady 13, made for Aussie/Kiwi Recipe Swap game #77 June 2013.
Measure first 4 ingredients into small bowl. Beat well. Makes about 1-1/4 cups of cheese mixture.
Spread cheese evenly on one side of each bread slice. Arrange slices into loaf shape. Place on one sheet of heavy-duty (or double layer of regular) foil. Fold edges of foil to enclose. Preheat grill to medium. Place foil with loaf on ungreased grill. Close lid. Cook for about 15 minutes, turning occasionally, until cheese is melted.