Grilled Chicken With Three-Mustard Sauce
teresas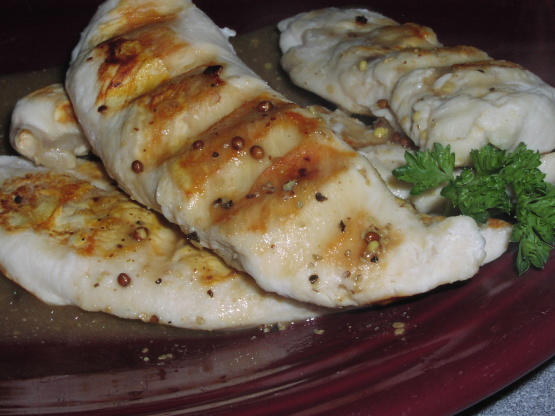 We love this mustard sauce on grilled chicken. The sauce can be made ahead so that dinner goes on the table quickly. From Chef Joseph Nartowicz at the Boston Park Plaza Hotel.

I loved the flavor of this but my sauce never did thicken up...I let it simmer for 25 mins it did reduce down. Not sure what I did wrong but I enjoyed the spiciness of the mustard's. I used tenderloins and cooked them on the George Foreman grill. Thanks for posting!
Combine both stocks and vermouth in heavy medium saucepan.
Boil over high heat until reduced to 3/4 cup, about 25 minutes.
Add all mustards and whisk to blend.
Simmer until slightly thickened, about 3 minutes.
Season sauce to taste with pepper.
(Can be prepared 1 day ahead. Cover and refrigerate. Bring to simmer before serving).
Prepare barbecue (medium-high heat) or preheat a broiler.
Rub chicken breasts with garlic.
Season with salt and pepper.
Grill chicken until cooked through, about 4 minutes per side.
Transfer chicken to plates. Spoon sauce over and serve.