Grilled Chicken With Savory Summer Vegetables
Alia55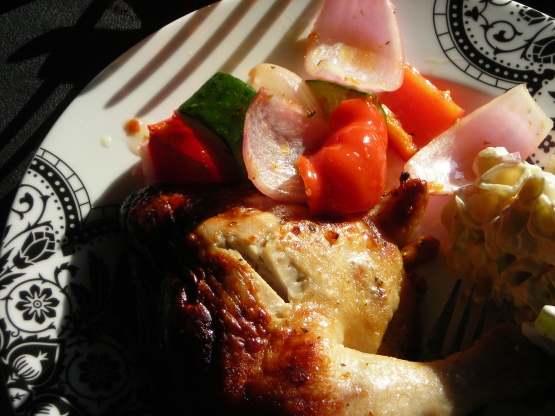 This is a lovely dish. Very easy to make and very flavorful. Can also be made in the oven.

So easy and so good. I had some sun-dried tomato salad dressing I wanted to use up, and this was a great way to use it. The dressing adds great flavor to both the chicken and the vegetables. I threaded the vegetables on to skewers for grilling, and used baby 'bella mushrooms instead of asparagus.
Preheat bbq to medium-high heat.
Brush chicken with 2 tablespoons of the dressing. Let stand 10 minute.
Poke holes of disposable aluminum foil pan.
Toss vegetables with remaining 2 tbsp dressing. Place in prepared pan.
Grill chicken until cooked through and vegetables are crisp tender. (About 20 Min).