Grilled Chicken With Pineapple Relish (Low Fat)
Bayhill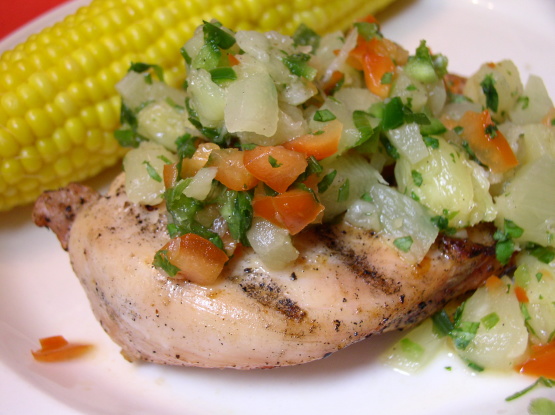 Indian cuisine influences this refreshingly different chicken dish. From the Better Homes and Gardens Dieter's Cookbook. This delicious chicken dish is served with a delightfully sweet and spicy pineapple relish.

This was a good dinner, but likely one I would not make again. Cardamom is something I'm used to in sweets and bread, so to find it in a savory application was a bit strange. Not bad, but not my first choice, either. The salsa was good, but I would strongly recomend using cilantro rather than parsley, as the parsley didn't really add any flavor, and it kind of tasted like something was missing. I would also recomend making the salsa the day before, or several hours earlier, so the flavors have time to marry. Thanks for posting! Made for ZWT5 by one of the Cooks with Dirty Faces.
In a small bowl combine 1/2 tsp of the cardamom, the salt, and black pepper. Rub both sides of chicken with oil; sprinkle evenly with spice mixture.
Grill chicken on the rack of an uncovered grill directly over medium coals for 12 to 15 minutes or until chicken is no longer pink (170°F), turning once.
For relish, in a medium bowl combine pineapple, sweet pepper, cilantro (or parsley), lime juice, green onion, jalapeño pepper, and the remaining 1/4 teaspoon cardamom. Serve chicken with relish. If desired, garnish with herb sprigs.