Grilled Chicken With Orange Gremolata
loof751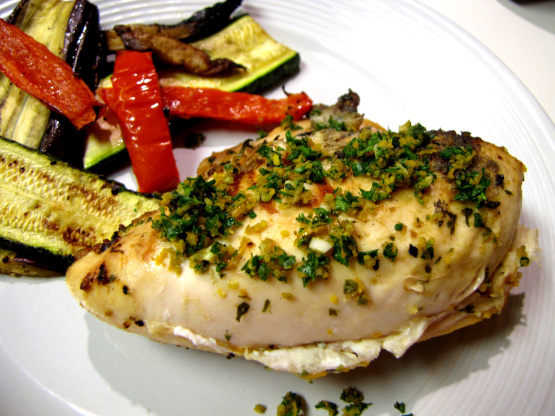 Weight Watcher's New Complete Cookbook - 4 PointsPlus per serving Gremolata is an Italian condiment that usually consists of parsley, garlic, lemon zest and olive oil. It can be sprinkled on almost any meat, fish or poultry for a burst of flavor. Don't use the nutrition facts listed by this web site. It includes the chicken skin which you will be removing and discarding after cooking the chicken. If you leave the skin on the points plus value with be much higher.

This recipe is a true delight! I love a recipe that I enjoy making as well as eating; I love the aroma of the citrus zest, fresh parsley, garlic and cumin that you get while preparing this chicken. I prepared as directed using breasts only and the cook time was spot on. We really enjoyed this moist and flavorful grilled chicken - thanks for sharing the recipe!
Spray grill rack with nonstick spray.
Preheat grill to medium or prepare medium fire using direct method.
In the meantime make the gremolita by mixing together parsley, zest, garlic, oil and cumin in small bowl.
Reserve 3 tbsp of gremolata in cup.
Gently loosen skin on chicken and spread remaining gremolata on meat under skin.
Place chicken, skin side down, on cooler portion of grill and cover.
Turn every 10 minutes, until cooked through (about 30 minutes).
Remove skin from chicken.
Place chicken on platter and sprinkle with reserved gremolata.