Grilled Chicken With Cilantro Marinade
Swirling F.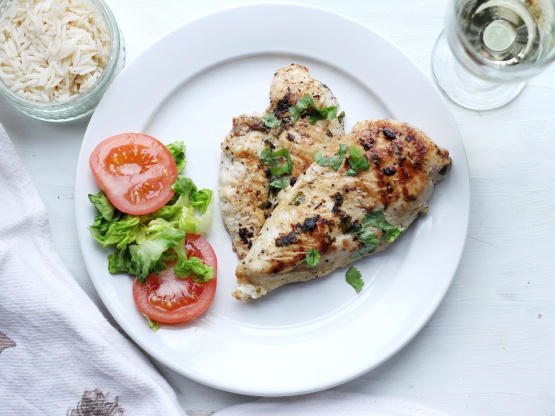 This has become a quick and easy favorite that we frequently make on the grill. Despite the ease of prep, it is bursting with flavor. It is from the Black Dog Tavern's Summer on the Vineyard Cookbook.

Top Review by Kendra
What a wonderful, easy recipe! I used more cilantro and garlic than the recipe called for, and I used 3T of the lime juice. The chicken was so tender, moist and flavorful! And that's really saying something for boneless skinless chicken breasts! Thanks so much for posting. This was the first thing we grilled this Spring, but it most definitely won't be the last time we grill this chicken!
Mix together the marinade ingredients in a deep bowl. Add the chicken breasts and turn to coat completely. Cover the bowl and refrigerate.
Marinade for about 1 hour. You can leave the chicken in the marinade longer, but because the mixture is very acidic, the chicken will begin to appear poached.
Preheat your grill. Cook the chicken over medium hot coals for about 3-5 mins per side.
Serve and enjoy.