Grilled Chicken With Cherry Sauce
teresas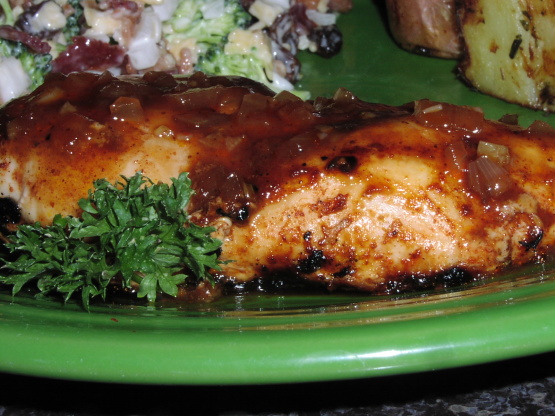 Turn up the flavor on these boneless chicken breast with smoky char, and a slathering of sauce.
This was awesome! <br/>I have to say that first...<br/>Initially, my wife said "no, we are not making that" when I told her the name of the recipe. I have to agree with my wife, this was an awesome recipe that is hidden under the description of 'cherry sauce'. <br/>We are not big fans of fruit in savory foods, but we are willing to try things out. Glad we were because this was the BEST sauce we have had in a long time. <br/><br/>It reduced nicely into a sauce that was very workable with the meat. The recipe called for chicken breasts, but we had chicken thighs on sale so I bought 3 boneless, skinless breasts and a handful of bone-in thighs. <br/><br/>We made the recipe as described, but added a bit here and there for the additional meat. My wife was raving on the sauce before we even had the chicken on the grill! <br/><br/>The pictures I'll post put the boneless/skinless breasts on top of the platter, but I am liking the thighs. Awesome dish that my wife wants me to make for her family in August when we vacation in August- high praise indeed! <br/><br/>The pictures will be added to the recipe shortly... Thanks for the great ideas.
Preheat grill to medium-high heat.
Heat a medium saucepan over medium-high heat, and add oil to the pan, swirl to coat.
Add onion to pan, and saute for 2 minutes, stirring occasionally.
Add garlic to pan and saute 1 minute stirring constantly.
Stir in cherry cola, and the next 4 ingredients through and including chili powder, and bring to a boil.
Reduce heat, and simmer 15 minutes or until sauce reduces to 3/4 cup, stirring occasionally.
Set 6 tablespoons of sauce aside.
Combine sugar, and the next 3 ingredients through and including cumin, and stir well.
Rub this mixture evenly over both sides of chicken.
Arrange chicken on a grill rack, coated with cooking spray, and baste with 3 tablespoons of the remaining sauce.
Grill for 5 minutes.
Turn chicken over, and baste with the remaining sauce, and grill chickenfor 5 minutes, or until done.
Serve with remaining sauce.