Grilled Chicken With Bourbon Peach Butter
KateL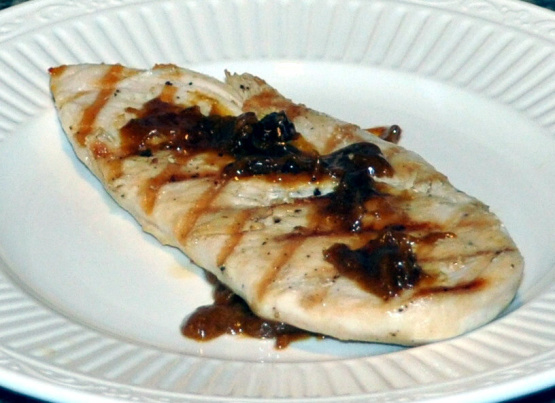 Very flavorful meal for the whole family.

Top Review by KateL
Delicious sauce if you have 5 ripe peaches that need to be used right away, as we did! There was nothing special about the grilled chicken, so the posted combination was to better approximate the nutritional value of the meal. I didn't have a 9x13 glass baking dish, so I divided the sauce between two 11 3/4 x 7 1/2 dishes; that was a mistake, as the sauce ended up too thin, and I could not scoop up the sauce around the edges of the pan. The sauce was divine: we had very ripe fresh Georgia peaches and I used Jack Daniels #7 for the bourbon. With very ripe peaches, it was easy to pull back the skin with fingers and minimize the waste. I used a Vitamix to blend the ingredients. Next time, I would put all of the sauce in my 8x8 Corning casserole dish; then we could gobble up all of the sauce with no waste. Made for Please Review My Recipe tag game.
Preheat oven to 250 degrees.
Combine the first 3 ingredients in a saucepan, bring to a boil, and cover.
Reduce heat, and simmer for 30 minutes.
Combine peach mixture, bourbon, brown sugar, and 1/4 teaspoon salt in a food processor, or blenderand process for 1 minute or until smooth.
Transfer peach mixture to a 13x9 inch glass baking dish, and bake for 2 hours 15 minutes or until thickened.
Preheat grill to medium-high heat.
Sprinkle remaining 1/2 teaspoon salt, and pepper evenly over chicken.
Place chicken on a grill rack coated with cooking spray, and grill 6 minutes on each side or until done.
Serve with sauce.