3 Reviews
What a delicious wrap! I marinated both the chicken and the tzatziki overnight and the chicken was moist and delicious along with those scrumptious kalamata olives and cucumbers. I added a little red wine vinegar to give the tzatziki a little more zip and added some fresh baby spinach leaves to the pita. This makes a wonderfully healthy and delicious lunch and can be made as a light dinner as well. Made for ZWT9, July, 2013.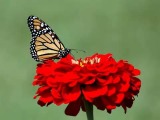 Yummo!!! Made these this morning for a trip to the beach. Outstanding! The marinade was soooo good, and the cucumber relish??? So greek! I'll be using the relish on so many other things. Used kalamata olives, giving an even more authentic taste. I'll try to get pics while at the beach. Thanks for posting!!!

This was a very yummy wrap! I started marinating the chicken in the morning before work. It was tender and juicy. The relish was plentiful and very delicious as well. I used kalamata olives. We served with Grilled Eggplant With Ricotta and Tomato as a side. Thanks for posting!

Grilled Chicken Tzatziki Wrap