Bergy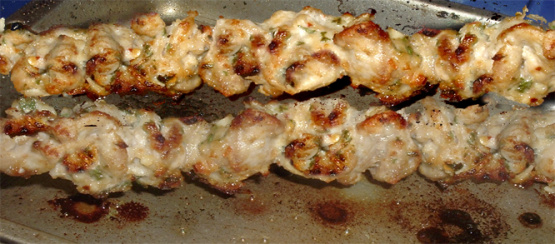 You can skewer these or leave the breasts whole and bake then broil, either way they are really good! On the grill or under the broiler!

Top Review by Bergy
This is such an easy tasty recipe. I had a little trouble getting the crumb mixture to adhere to the kebobs but the flavor was there and they browned nicely. I did not drizzle them with butter just lemon juice. Thanks Peacefulnightdove for a keeper — Feb 3, 2006
Place all ingredients, (except butter & lemon juice), in a large bowl or Ziploc baggie and marinate for 1 hour. (Yep, even the parmesan cheese and bread crumbs!).
Place the chicken on skewers and broil for 8-10 minutes.
Or cook on the grill, turning once or twice.
*If using wooden/bamboo skewers, soak in water for 20-30 minutes before threading on chicken to prevent excessive burning.
Sauce:.
In small saucepan, melt butter and lemon juice over low heat. Drizzle over cooked chicken skewers when served. Serves 6.