Derf2440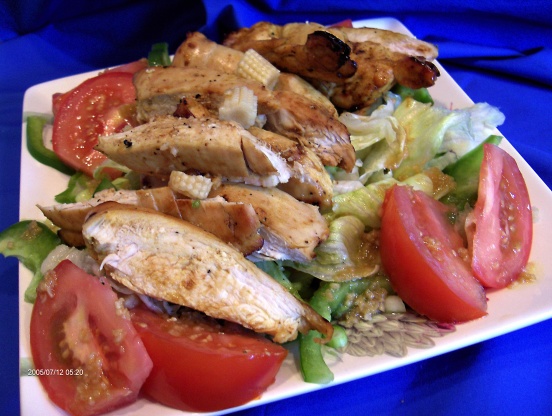 This is the only chicken salad I'll eat since I started making it. Taken from the Silver Spoon cookbook.

Top Review by J-Lynn
Oh, this is aMAZing! This deserves many, many more 5 star reviews! I marinated the chicken overnight and grilled it on a George Foreman grill. It was very, very flavorful, and complemented the dressing perfectly! I can make a large amount of this, and serve it alone for dinner. (use whatever fresh veggies are on hand) (I think it would be just fine with half the amount of garlic in the dressing)
Using a sharp knife cut 3-4 diagonal slits in each cutlet.
Place onto a lined small baking pan.
Combine marinade ingredients and pour over chicken cutlets.
Place on oven rack 8-10 inches away from top.
Grill for 10-12 minutes, turning every few minutes.
Remove from oven, cover, and let sit for ½ hour.
Combine salad ingredients.
Combine all dressing ingredients well by hand.
Pour over salad ½ hour before serving.
When chicken is cool, cut into strips.
Toss salad with dressing and chicken.