Grilled Chicken Pepper Jack With Creamy Sauce
Tresa H.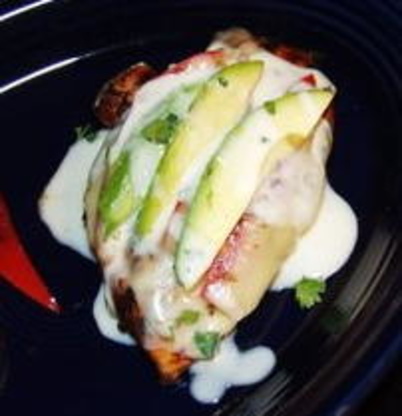 I had Chicken Monterey at Salsa Brave in Colorado Springs and I couldn't wait to get home to recreate it!

This was not only delicious, but the presentation is beautiful. I'm filing this one away for dinner guests because it looks so impressive (but is so easy)! Thanks for posting!
Mix marinade water and oil in large baggie.
Add chicken and marinade for at least 1 hour.
Grill chicken and red pepper until done. (you want a little crunch to your pepper).
Meanwhile mix sour cream chipotle pepper and cilantro in microwave safe bowl.
Microwave until hot, season with salt and pepper.
Top grilled chicken with peppers then cheese.
Return to grill until cheese is melted.
Top with avocados and cream sauce.