Grilled Chicken Gourmet-Style Salad
Debber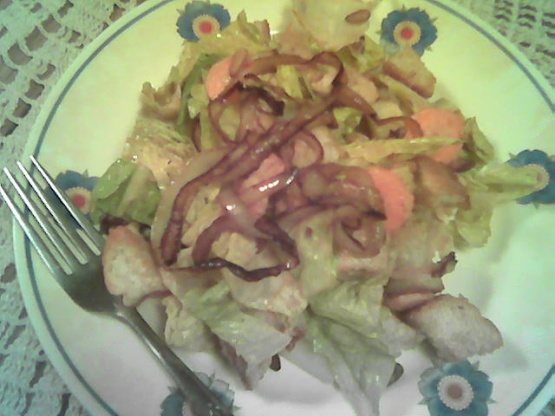 Elegant enough for special guests, simple enough for a family supper; light enough for the calorie-conscious dieter.

This is a restaurant-quality salad. I really would not be surprised to find this on the menu at Applebee's or some such. I found a couple ways to make it slightly healthier, and nearly cut the calories in half. First, I used turkey bacon, mostly because it is what I had on hand. I also omitted the oil for frying the chicken, and just used the slight grease from the bacon. I halved the mayonnaise because I wanted a stronger barbecue flavor and I ended up leaving out the onion, due to error on my part. I had to leave out the onion because I cooked it first, instead of last, so that it would cook while I was cutting the meats. This resulted in them becoming cold and slimy by the time everything else was ready. Luckily, I had some french-fried onions on hand, so I threw a handful into the salad to make up for the taste. I also used a bag of chopped lettuce for the base. I think this would be a good at-work lunch if it is assembled at the table. This is definitely something I will make again, especially with warmer weather coming. Thanks Debber!
Prepare and toss lettuces in large serving bowl; set aside.
Fry bacon; set aside to cool; then crumble.
Slice radishes very thin, marinate with vinegar and sea salt; stir and set aside.
While bacon is frying, slice and cube bread, then toast until golden brown; drizzle with melted butter; sprinkle with garlic salt; set aside.
When bacon is done, pour off grease, add olive oil and sauté chicken breast cubes; stirring frequently. When browned, remove from pan and set aside to cool.
Add butter to pan, when melted add onion rings and brown until ALMOST crispy.
While onions are working, mix mayo and barbecue sauce in a small bowl. Pour over chicken cubes, mixing well.
Add bacon, radishes, bread cubes, chicken, onions and pine nuts to lettuce in large bowl; toss well.
Serve with home-made berry compote and fudgy brownies!
Option #1: Try carrots or do half-n-half radishes & carrots for lovely color.
Option #2: Use a different "sauce" to marinate the radishes (soy, red wine or balsamic vinegars, etc.).
Option #3: Let each diner add each ingredient at the table.
Option #4: Include spinach or fresh Swiss chard with the greens.