Grilled Chicken Caesar Salad a New Way
PanNan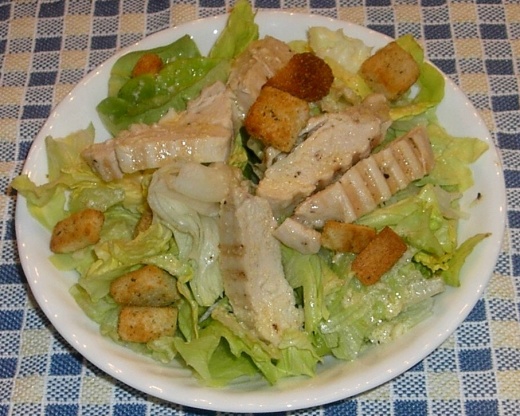 While the flavor will be good using leftover cold chicken in this recipe, the key to the specialness of the recipe and the great vibrant flavor of the salad, is to use warm, just-cooked chicken breasts and to place the warm, cooked chicken pieces IN the dressing instead of placing the dressing over the chicken. This technique adds a lot of flavor and works well with most any beef or shrimp salad recipe using a vinaigrette-type (not creamy) dressing as well.

Very good - thanks for submitting this recipe. We have made it 2x now using up grilled chicken we had leftover the 1st time & just today using leftover rotisserrie chicken. Very quick and easy :-)
Combine all dressing ingredients in a medium-size bowl.
Rub chicken breasts with the 2 tablespoons of olive oil and season them lightly with salt and pepper.
Grill breasts until browned and cooked through (about 3-4 minutes per side).
Let chicken rest for 5 minutes.
Cut chicken cross-wise into 1/4" slices.
Place slices and their juices in the bowl of dressing, mixing gently to coat.
Serve chicken and dressing over romaine and top with croutons.
Garnish with more Parmesan cheese.
Pass the pepper mill!
Cooking time includes cooked chicken resting time.