Grilled Chicken Breasts With Wine Sauce
ImPat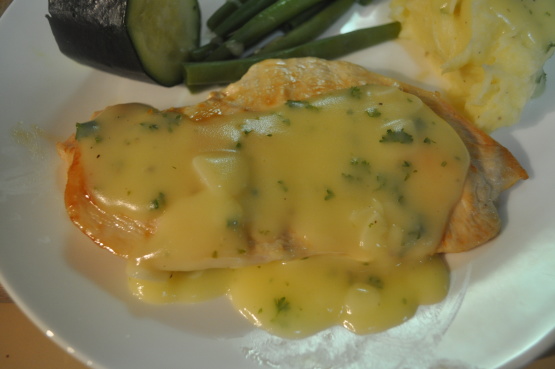 I found this recipe on-line. I am always looking for grilling recipes, and my kids always enjoy sauce over their grilled chicken, so this looked perfect. Putting here for safe keeping. Update, 10/27/2013: I have now made this recipe and really enjoyed it. My DH loves to make boneless, skinless chicken breasts, wrapped in bacon and grilled over the charcoal grill. So I made this as written except my chicken was wrapped in bacon, so yummy. Then served it with the sauce. I didn't expect the sauce to taste much of garlic based on other reviews, but for us, I found it very garlicky and would cut back on that next time for our tastes and maybe use about double the amount of broth.

Top Review by ImPat
My chicken breasts were huge (just over 400 grams each) so halved them horizontally and cooked them on the indoor electric grill. I made the sauce as directed though had to add nearly an extra halve a cup of liquid or I would have had thick sauce you could stand a spoon in and I was surprised the garlic did not come out in it more but then maybe I didn't cook it enough in the butter but otherwise was very nice over the chicken and the vegies. Thank you diner524, made for Please Review My Recipe.
Prepare grill, placing coals to one side; heat until coals are ash white. Make aluminum foil drip pan; place opposite coals.
Brush chicken breasts with oil; place on grill over drip pan. Grill, turning occasionally, until no longer pink (25 to 35 minutes).
Meanwhile, in 2-quart saucepan, melt butter until sizzling; stir in garlic. Cook over medium-high heat 1 minute. Stir in flour; continue cooking until bubbly (1 minute). Reduce heat to medium. Stir in all remaining wine sauce ingredients except sour cream. Cook, stirring occasionally, until sauce thickens (1 to 2 minutes).
Stir in sour cream. Continue cooking, stirring occasionally, until heated through (3 to 5 minutes). Serve over grilled chicken.
TIP:Wine sauce can be served over broiled, baked or poached chicken breasts.