Grilled Chicken Breasts With Onion Glaze
Juenessa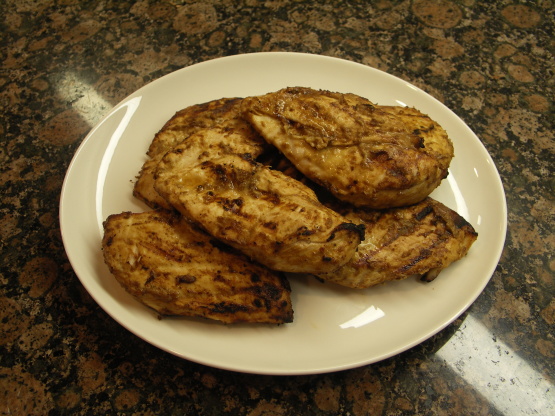 The marinade for this chicken is delicious and the recipe makes a large quantity. Freeze half for later use or make just half the marinade. Try using a sweet onion for a sweeter flavour. From Weber's Real Grilling. Very good recipe. First time I made it as written. And yes, the flavor is subtle.. but very good nonetheless. Second time, I tried turning into a "glaze" (or bbq sauce, of sorts)... 1/2ing the recipe, and leaving out the lemon for the glaze. Very very good. I think what would be perfect (next time) is making the full recipe, using 1/2 to marinade the chicken and the other as a glaze/sauce... Can't wait until next time. Thank you for posting.
Place all but the chicken breasts in a food processor or blender. Process until smooth.
Place chicken breasts in a resealable plastic bag and pour in half the marinade. Freeze remaining marinade.
Refrigerate chicken for 4 to 6 hours, turning once or twice.
Remove breasts from the bag, discarding marinade. Grill on medium heat until cooked through.
The marinade may also be used for wings baked in the oven.