Grilled Chicken Breasts With Gazpacho Salsa
Derf2440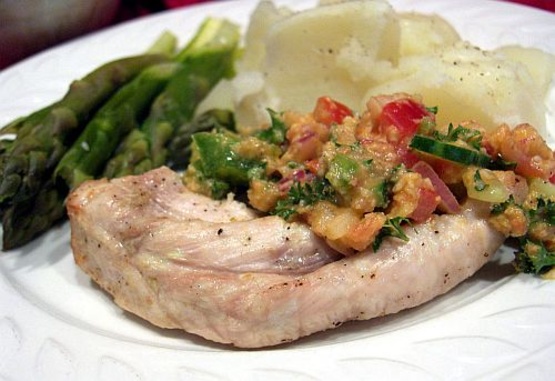 This tasty dish can be prepared in 45 minutes or less.

very good! we especially liked the salsa, delicious! with a nice bite! The salsa could make it on it's own as a recipe! The chicken is almost beside the point, the salsa could be used on almost anything. Bet it would go well with fish or any kind of seafood. Thanks for posting, will definately make it again!
In a blender blend together the garlic paste, the vinegar, 2 tablespoons of the oil, the water, the cumin, the Tabasco, the bread, half the tomatoes, and salt and pepper to taste until the mixture is smooth, transfer the mixture to a bowl, and stir in the remaining tomatoes, the cucumber, the bell pepper, the onion, and the coriander or parsley.
Brush the chicken with the additional oil, season it with salt and pepper, and grill it on a rack set 5 to 6 inches over glowing coals, or in a hot well-seasoned ridged grill pan, covered, over moderately high heat, for 5-10 minutes on each side, or until it is cooked through.
Cut the chicken on the diagonal into 1/4-inch-thick slices and serve it with the salsa.