Grilled Chicken Breasts in Raspberry Vinegar Marinade
Annie H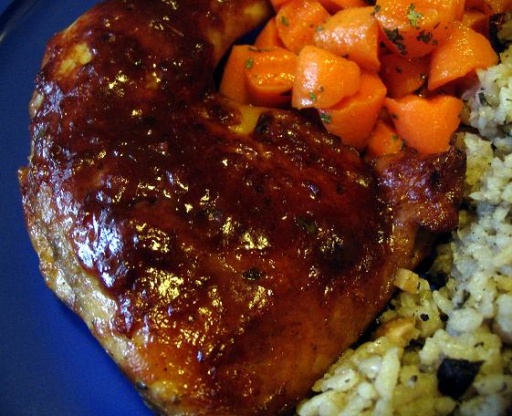 This recipe was adopted from the RecipeZaar account. After making this myself, I found that the addition of a couple of tablespoons of seedless raspberry jam to the basting liquid really added a nice flavor. Use in the last few minutes of broiling or grilling as the jam will burn.

Even the kids loved it! I used black raspberry vinegar, bottled lemon juice and garlic powder. Cooked the chicken on the grill...delicious.
Remove excess fat from chicken breasts; place them in sealable plastic bag or non-aluminum bowl.
Combine remaining ingredients; pour evenly over chicken breasts.
Seal bag or cover bowl; marinate in refrigerator 4 hours or overnight.
Turn occasionally.
Remove chicken from marinade, reserving marinade.
Arrange in one layer in greased 9x13-inch pan.
Pierce skin in several places with sharp knife.
Cover with foil.
Bake at 350°F for 30-35 minutes, or until mostly cooked through; in the mean time, bring reserved marinade to a simmer in a small saucepan, simmering 15 minutes.
After main cooking time, uncover chicken and baste with marinade every 5 minutes until chicken is cooked through, approx 15-20 minutes.
For OAMC or freezing ahead, freeze this chicken, raw, in marinade -OR- freeze after cooking, making sure to include a portion of the cooking juices with each breast (keeps chicken moist while thawing).
Serving suggestions: bed of rice or baby spinach; side of green salad with raspberry vinaigrette; mashed potatoes; steamed carrots or broccoli; sliced thin over a bed of peppered angel hair pasta.