Grilled Chicken Breast with Creamy Red Pepper Sauce
vrvrvr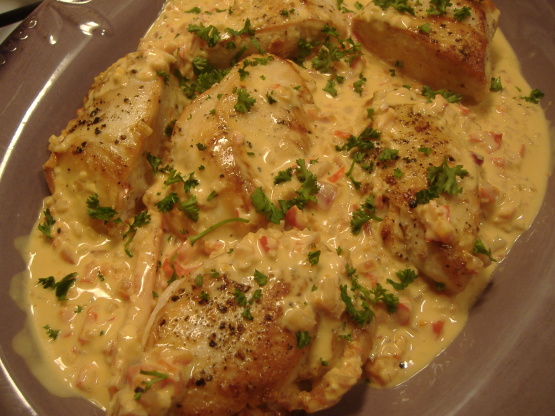 This sauce is very tasty, and pretty healthy especially if you use low-fat/lite sour cream and cream cheese. I don't have a grille, so I use my George Forman. Often with the GFG, chicken comes out a little burnt if you use a sauce/marinade directly on the meat...this sauce is spooned on after the meat is cooked, so it works out perfectly!

So easy to prepare and cook within 30 mins. Absolutely gorgeous. Served with new potatoes, green beans and sweet corn.
While chicken breasts are grilling, prepare sauce.
Sauté onion and garlic in butter/margarine until onion is translucent (2 minutes).
Add pepper strips and cook, stirring occasionally, until tender crisp (about 5 minutes).
Meanwhile, measure into blender the cream cheese, sour cream and wine.
Add the peppers and onions to the blender and process until smooth, scraping down sides of container as necessary.
Return sauce to saucepan and cook over low heat until heated through (Do Not Boil).
Serve over chicken; garnish with parsley.