Grilled Chicken and Veggie Kabobs Atop Sage Rice
PaulaG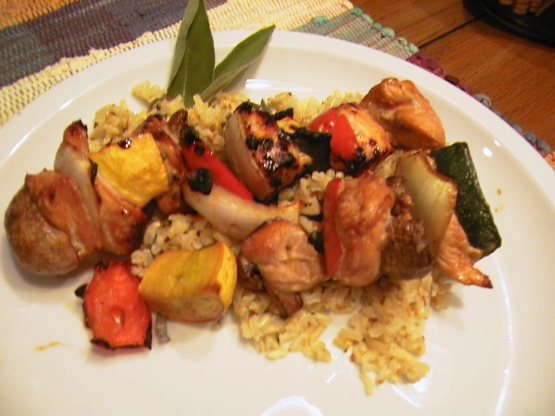 When it is to hot and you don't want to cook inside try exiting outside to the grill. A wonderful blending of seasame and sage make this is a nice flavorful dish and perfect for those hot summer days.

I was all out of brown rice, so used white instead. I also, reserved a bit of the marinade to microwave and drizzle over the rice. Otherwise, I made this exactly as described. Let me tell you, the flavor was magnificent, one of the best recipes I've ever taken from Recipezaar. Thanks, Paula, for this very special meal.
In blender jar, combine all ingredients for the marinade except for sesame seeds.
Blend completely, stir in sesame seeds.
Reserve 1 cup of marinade and pour remainder over the chicken, cover and refrigerate 8 to 24 hours.
About 1 hour before cooking, place cut vegetables in a glass bowl and pour ½ cup of the reserved marinade over them.
Allow vegetables to stand at room temperature for approximately 45 minutes.
While vegetables marinade, bring the chicken stock for the rice to a boil along with 1 Tbsp of the sage.
When stock boils add the brown rice, stir, cover and cook for 45 to 50 minutes.
Warm sesame oil in small skillet, add sesame seeds and toast until lightly browned and fragrant; set aside.
Thread the chicken and vegetables onto 4 skewers alternating the chicken and vegetables.
Grill kabobs 20 to 25 minutes over medium heat or until chicken is thoroughly cooked and vegetables are crisp tender.
Baste frequently with remaining marinade.
When rice has finished cooking, stir in remaining 2 Tbsp of sage and toasted sesame seeds.
Serve the chicken kabobs over the rice.
The cook time does not include the marinade time for the meat.