Grilled Chicken and Plantains, Jamaican-Style
Elmotoo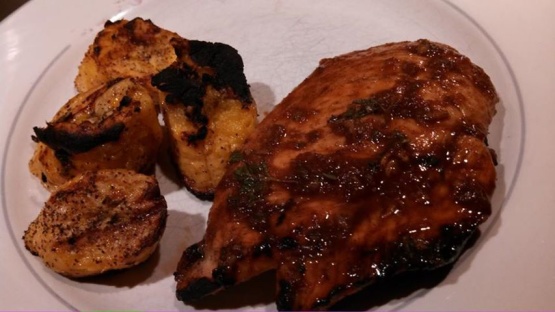 Recipe is from Epicurious.

YUMM!! I, of course, forgot to go out back for the thyme & also forgot the tomato paste until I had dumped out the portion for marinating. So, the sauce was a bit better than the marinade because I hooked that little mini prep back up, added the missing ingredients & whizzed it all up! My plantains were a bit on the soft side but still grilled well. Absolutely delicious. Made for ZWT9, Mike & the Appliance Killers.
Brush grill with oil. Prepare grill to medium heat. Puree molasses and next 7 ingredients in a blender until smooth. Season with salt and freshly ground black pepper. Spoon 1/4 cup sauce into a pie plate. Add chicken and turn to coat. Marinate for 15 minutes.
Brush plantains with oil and sprinkle with salt and pepper. Grill plantains and chicken (skin side down), for 8 minutes. Turn chicken and plantains over. Grill until chicken is cooked through approximately 8 minutes (for chicken) and 4 minutes for plantains. Serve chicken and plantains and drizzle with remaining sauce.