Grilled Cherry Tomatoes With Garlic
teresas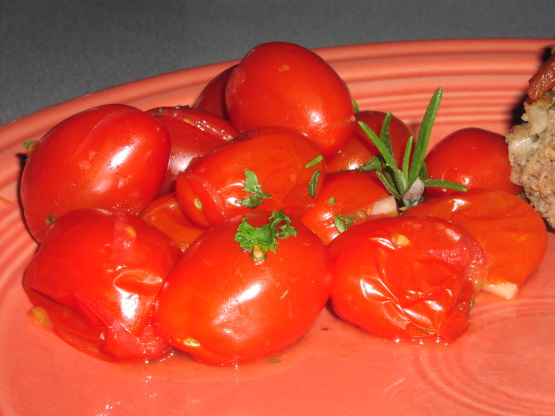 I saw a picture of this in Better Homes & Gardens magazine and can't wait to try this with fresh from the garden tomatoes!

I used Roma tomatoes, brown sugar and ground parsley (as I didn't have fresh parsley at home). It was an easy dish to put together and tasted very nice. Thank you for your post Sharon123
Remove stems from tomatoes. With the tip of a sharp knife, pierce tomatoes. Carefully insert a sliver of garlic into each tomato.
Place tomatoes in the center of a 18x12 sheet of foil. Drizzle tomatoes with the olive oil; sprinkle with rosemary, parsley, sugar and salt. Bring the two long sides of the foil together and seal with a double fold. Fold remaining edges together to completely enclose tomatoes.
Grill tomatoes on the rack of a grill directly over coals or gas burners for 4 to 5 minutes or until heated through. Or bake in a preheated 350*F. oven for 4 to 5 minute or until heated through.
To serve, carefully open foil packet(watch out for hot steam!). Move tomatoes to a serving platter. Sprinkle with salt and serve immediately.